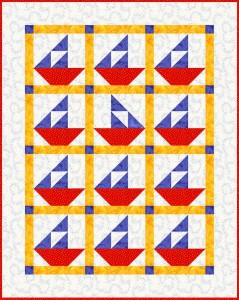 I suppose it is the hubbub leading up to the commemoration of the hundredth anniversary of sinking of RMS Titanic that brought about this fun little quilt design.
But I do have to say I have always loved the traditional sailboat block of which the blocks in this quilt are a variation. It represents both the little boy with a toy tugboat playing in his bath water and all the generations of brave sailors who have dared to sail the seas in defense of home and hearth. Whether you want to delight a young man in your life or simply find the design appealing yourself, you can whip up your own version of Little Boys' Toys in a very short time. And it will bring pleasure for a very long time.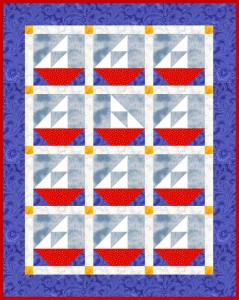 So here is the PDF for this little quilt. I know these Doll Quilts/Table Toppers /Wall hangings are coming at a rate of more than one a month but they are just so much fun! Check out the one rogue block in this armada! As my mother used to say… There is one in every crowd!
And for Ls of Sashing Sheet PDF
And speaking of the RMS Titanic, the Titanic Block I posted a few days ago would make a great label for your Little Boy's Toys quilt.
I hope you are enjoying these wonderful little quilts as much as I am. Try one atop a table or arrange a few on a wall. Lovely! The PDF Links to some of the earlier quilts are below (in case you have missed any!):
Here you go:
Thanks for stopping by LynBrown.com. Drop by again soon!
Enjoy and…
Make A Great Quilt!