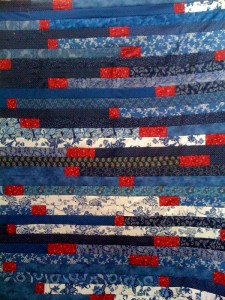 Here are two beautiful Jelly Roll Race quilts, each with one added element. The top one has rectangles (2 1/2″ X 3 1/2″ to 6 1/2″) added to each strip of the Jelly Roll before starting and the one below has squares (2 1/2″). The Jelly Roll Race or Jelly Roll 1600 quilt is easy to make and is wonderful for charity or use-em-up quilts.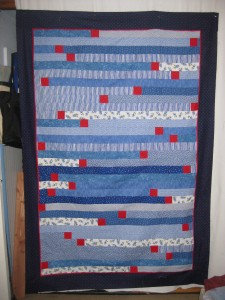 If you haven't heard about the Jelly Roll Race Quilts… Here is the deal: Take your strips from a Jelly Roll or Bali Pop or any other set of 40 ea. 2 1/2″ width of fabric strips, remove the selvedges and sew them together short end to short end, forming a 1600 inch strip (REALLY LONG!) Fold in half, right sides together, cut on that little fold and stitch. Now you have an 800″ X 4 1/2″ strip. Fold again, cut the fold and sew. Now it is 400″ X 8 1/2″. Fold again, cut and stitch so the quilt is now 200 X 16 1/2. Fold and cut again and stitch so the piece is 100″ X 32 1/2″. And one last time. Fold, cut and stitch so you have a quick quilt top that is about 50″ X 64″, a great lap quilt size. Or add borders to make a larger quilt.
Now the pictured quilts have those squares/rectangles added before you start stitching the strips together and they really jazz up the project. My students have made lots of variations on this theme. You could stitch the strips into pairs then add a 4 1/2″ square to each pair, then strip the pairs together. Or how about adding half square triangles in lieu of squares… Or some other 4 1/2″ block… Or fussy cut squares to feature a favorite motif. The possibilities are endless!
For another riff on Jelly Roll/Bali Pop quilts, check out the Lasagna Quilt or the California Roll or the Rockin' Roll Quilt, all available free here on LynBrown.com.
Also… Check out my NEW Craftsy Pattern Store where you can purchase immediate downloads of my patterns… and some free patterns too!
Oh, and here is a link to a YouTube about the Jelly Roll Race Quilt…
 ********************************** There are many other great
free downloads
available here at LynBrown.com including:
Our Nautical Tumble Sampler Quilt Archive
2013 Fabric Swap Schedule for our Orange County, CA Classes
2013 Swap Archive including Gray Study and Amish Weave and SLOw Turning
The Archive of our free 2013 Block of the Week/Month Fanciful-Floral-Foursquare Patterns
Wondering about these free classes? Here is the list of times and locations…
Free Quilting Classes (in Orange County, CA) Times and Locations

New Student Supply List
Don't forget to check out Camp Watch-A-Patcher! Coming July2013! The most fun you'll ever have with your Sewing Machine!

Classes are still available.
Enroll NOW!
Do check out my NEW Craftsy Pattern Store where you can purchase immediate downloads of my patterns… and some free patterns too!
*************************************
Thanks for stopping by.
Make A Great Quilt!