At the bottom of this post is a link to a packet of the Swap Quilt Patterns (at the end of this post) we have done over the course of a year…
There are lots of wonderful quilts in this Scrappy, Swappy Quilts pack… Some you may recognize because I was lucky enough to have them published in QUILT Magazine.  We did them in class as Swaps but you could make these from Fat Quarters or pieces from your stash or set up your own Swap Party with your Quilting Friends!  Instructions for organizing your own swap are available here…Swap Organization 2012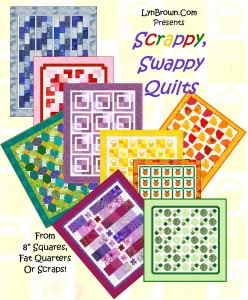 Blue Bricks is fast and easy…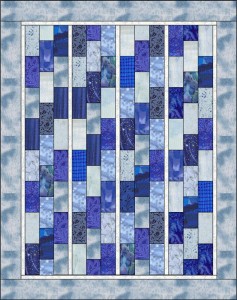 Scattered Hearts spreads romance all around without being TOO sweet…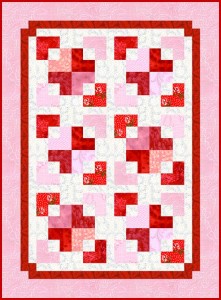 This Framed! Quilt was the basis for the design of my Early Spring quilt that wound up on the cover of QUILT magazine…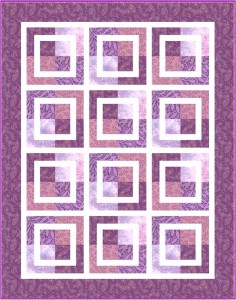 Now there is a hitch with these free pattern packs. They will only be available for a limited time for Free before I moved them over to my Etsy site to be available for purchase. So download them now. And tell all your quilting friends about these free pattern packs. Thanks!
The PDF for the Scrappy, Swappy Quilts Free EBook is at the end of this post.
As always, you are invited to look around this site for LOTS of other dynamite gift ideas (Get an early start on this year's Holidays) and other free patterns.
Including:
The Quilters Alphabet Quilt Archive (In case you have missed any of these wonderful blocks)
Quilters Alphabet Setting Instructions (Just posted)
Watch for our new Block of the Week Coming Soon!
Past swap/scrap-quilts (The singles from this EBook)
Rainbow Triangles Quilt – 8 Triangles at a Time!
2012 Rainbow Swaps
Burgoyne Surrounded Supply List
Iris 2012 Pattern
Iris 2012 Supply List
Free Quilting Classes (Orange County, CA) Times and Locations (We start up again January 7, 2013)

New Student Supply List
And we'll have even more for 2013. We are just beginning our new pattern…
Repeat Revolution
!   And I just posted our
2012 Doll Quilt eBook
with all 14 Doll Quilt Patterns presented here in the last 12 months. Download them all in one operation!  
And, check My Etsy site
For Even More Patterns  
Here is the link to purchase the Scrappy, Swappy Quilts PDF from my Craftsy store…
 Scrappy, Swappy Quilts Pattern Pack on Craftsy
    This PDF is 12 pages long.  Download and print only the pages of interest to save on ink!   Thanks for dropping by!
Make A Great Quilt!