Here is a traditional OLD pattern that an older child would have made to hone her skills. As a pieced pattern, this is a pretty difficult block, but as a fused appliqué block, it's a snap.  Give it a try and soon you'l be "Winging" along!
Make it controlled scrappy using the Bridges method and just three fabrics…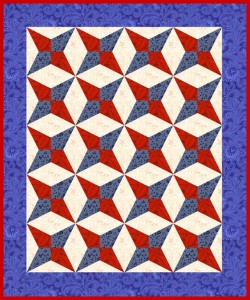 Or go wild and make it a real scrapbag buster using lots of different fabrics!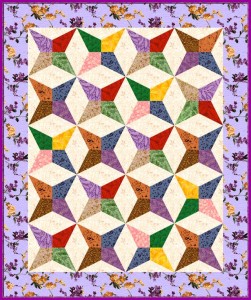 Try it as a reproduction to really get the feel of an old piece…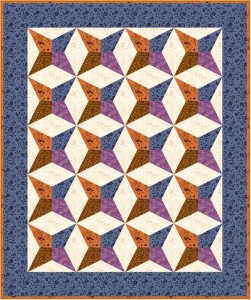 Wow!  There is a lot of fun to be had with this Hummingbird pattern.  And because the applique is a lot of straight lines, you can practice your applique or teach a new quilter the ropes. Here is the link for more info on Machine Applique
As for other things going on here at LynBrown.com, if you need any of our Quilter's Alphabet patterns (This Block Of The Week will continue through the summer), check the archives. And browse around the site for lots of other free patterns. We are working on our 2012 series of Doll Quilts ( I'm hoping to have a new doll quilt for you in the next week) and lots more swap patterns. And there are even more Patterns on my Etsy site.
And coming soon will be our 2012 Fall Quilts which will be the glorious and historic Burgoyne Surrounded (Supply List now available) and the beautiful Iris Quilt.  The Iris block is posted there and the setting will be given in the fall so start working on those Iris  blocks!
And just posted for this summer: The 2012 Sunset and Vine Mystery Quilt. Clues began July 3.  If you are just joining us, here is the Supply List… And Clue One.
There will be Nine SUNSET AND VINE  Clues with one given each Tuesday.  Remember to leave a comment telling me whether you would like the Old Mysteries to be posted as mysteries (in Different Parts) or just a patterns (All In One with no mystery element).
You'll never get bored at LynBrown.com.
 Here is the Hummingbird Pattern PDF:
Hummingbird Doll Quilt / Table Runner / Wall Hanging Pattern PDF
Thanks for looking in!