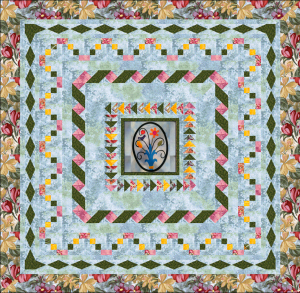 This Spring Medallion Quilt is our "Big" project for the Spring 0f 2012.  We have done the central applique and this week will be squaring up and adding the first border.  Here are all the PDF links you need to get started on this beautiful quilt.
Medallion quilts are one of the earliest designs in quiltmaking.  Join us on this historic and educational project.  All the PDFs so far are linked below.
Here is the Supply List Link:
Spring Medallion Supply List With Addendum 2 10 12
The Central Applique:
Medallion Quilt Center Applique final
The Oval Band:
medallion Quilt center oval band
(2/25/12) And this week's new PDF, Squaring Up and adding the first border:
medallion Quilt center squaring up
3/3/12) Now we are adding the Flying Geese Border (Includes a discussion of 3 different kinds of Flying Geese!):
medallion quilt Flying Geese X 3
Thanks For Stopping By.
Make A Great Quilt!