I'm not sure if I'm a little ahead with this doll quilt or a little behind.  By my count, this is our 11th doll quilt, but I may have missed one somewhere.  Surely this Spools Quilt is both worth waiting for… And a little ahead of its time!
Using the quick Snowball technique eliminates all the miters that are traditionally used in the Spool Block. (Note:  It's really fun if you use Stripes to look like Thread!  And Think Charm Pack!  Then we are making 4-patches using just two of the thread fabrics.
Here's the quilt: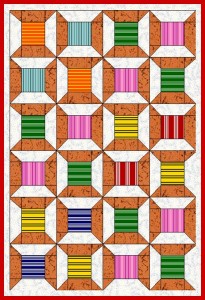 And the 4-Patch Block (Note just two Thread Fabrics, each used twice):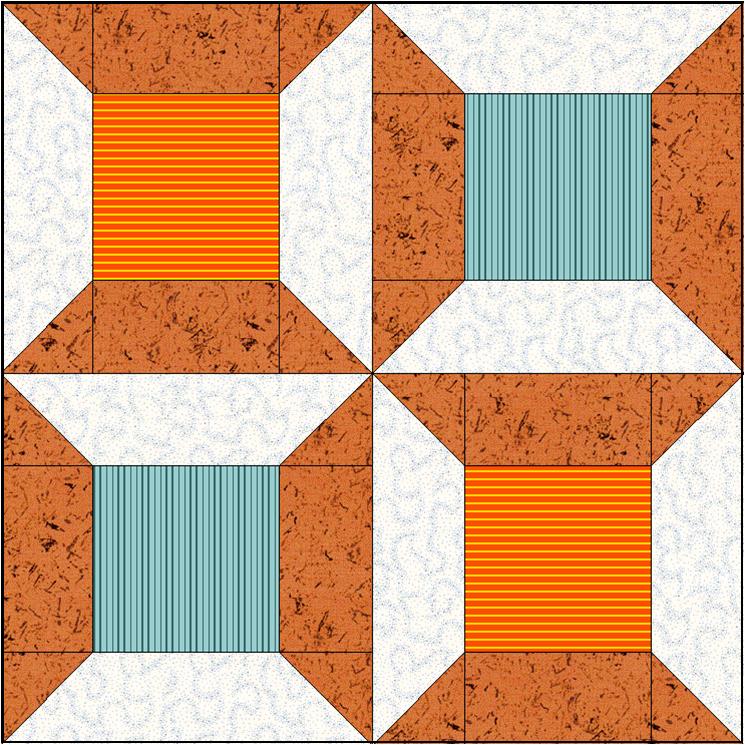 I have been reminded by my students, time and again that there is lots going on here at LynBrown.com. Our doll quilts series  will continue through the summer and there are lots of other great free quilt patterns here on the site…  Like our swap/scrap quilt patterns and our Quilter's Alphabet quilt block of the week  which will both be continuing all summer long.
And coming soon will be our 2012 Fall Quilts which will be the glorious and historic Burgoyne Surrounded (Supply List now available) and the beautiful Iris Quilt. Oh and just posted: The 2012 Sunset and Vine Mystery Quilt Supply List. Clues begin July 3. so keep your eye on LynBrown.com in the coming months.  As always, there is more to see at our Etsy Shop.  There must be something for everyone in that mix!
The Spools Pattern is available in the Fun And Easy Doll Quilt Pattern Pack on My Craftsy Store.
Thanks for checking in!