This week we are swapping Flannel 10″ squares in our classes in North Orange County in California. The flannels are to be masculine. And the quilt pattern has strong lines and large pieces. The combo is sure to please your favorite guy.

But if you are not a class member, pull some of your scraps out and use them to make this easy quilt!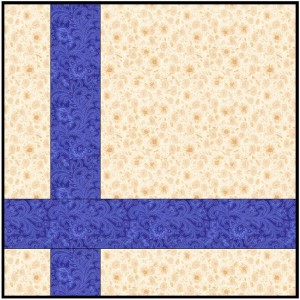 The block is easy. Slice the 10″ square along two sides and insert Accent strips. The block is asymmetrical which always makes for setting fun. You can make 36 SLOw Turning blocks for a square quilt about 80" Square…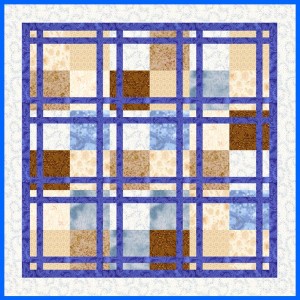 OR… Make 35 blocks for an oblong quilt about 91" X 69″…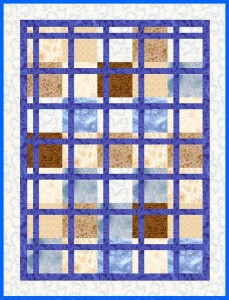 The SLOw Turning pattern PDF is available at the end of this post.
P.S. This is called SLOw Turning because it is based on a bit of lattice spied on a patio in a neighborhood of San Luis Obispo, CA!
************************* And there are many other great free downloads available here at LynBrown.com including:
2013 Fabric Swap Schedule for our Orange County, CA Classes
2013 Swap Archive including Gray Study and Amish Weave
Our New Nautical Tumble Archive
The Archive of our free 2013 Block of the Week/Month Fanciful-Floral-Foursquare Patterns
Our 2012 Block of the Week The Quilters Alphabet Quilt Archive (In case you have missed any of these wonderful blocks)
2013 Fabric Swap Schedule for our Orange County, CA Classes
Wondering about these free classes? Here is the list of times and locations…
Free Quilting Classes (in Orange County, CA) Times and Locations

New Student Supply List
And I have posted our
2012 Doll Quilt eBook
with all 14 Doll Quilt Patterns presented here in the last 12 months. Download them all in one operation! This free download will be available for only a few more days! And
My Etsy Pattern Site
And check out my NEW
Craftsy
Pattern
Store where you can purchase immediate downloads of my patterns
… and some free patterns too!
*************************************
Thanks for stopping by.
Here is the SLOw Turning PDF…