We need some fish in this Nautical Tumble Quilt, don't you think?  So this block has a whole SCHOOL!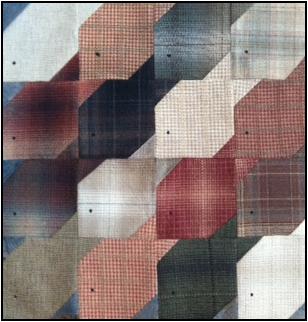 This tessallating block has 16 fish… And that's no Fish Tale!  But this school of fishes is pretty easy to make using the Diagonal Seams or Snowball method.  The hardest thing about this block is making sure each fish gets its own tale!  There are 16 Students in this Fish School, give each one his own personality by using 16 different fabrics.  Or maybe you'll have some siblings in the class and use some fabrics two or three times!  Add their eyes with French Knots, Beads or Ink… How easy is that.
Next Saturday, June 8, I will post our last Nautical Tumble Block and then the setting instructions will go up the following week (6/15).
Missing some of these Nautical Blocks? Here Is Our 2013 Nautical Tumble Sampler Quilt Archive.
**********************
Check out my NEW
Craftsy
Pattern
Store where you can purchase immediate downloads of my patterns
… and some free patterns too!  
Wondering about my free classes? Here is the list of times and locations…
Free Quilting Classes (in Orange County, CA) Times and Locations

New Student Supply List
Note:  Our Last Day of Classes for Spring 2013 is June 21.  Classes resume for Fall 2013 on September 9.  
Don't forget to check out Camp Watch-A-Patcher! Coming July 2013! The most fun you'll ever have with your Sewing Machine!
Classes are still available.
Enroll NOW!
  This Summer, join in and follow along on our
Sew Spangled Mystery Quilt!
Here is the
Supply List and more details….
Do check out my NEW Craftsy Pattern Store where you can purchase immediate downloads of my patterns… and some free patterns too!
*************************************
Thanks for checking in with us.