Here is our August Doll Quilt… The Log Cabin! This is an easy quilt if you stay organized. I am a firm believer in pre-cutting all your strips. It will keep the block accurate. Cut your strips, stack them by size and value then start stitching!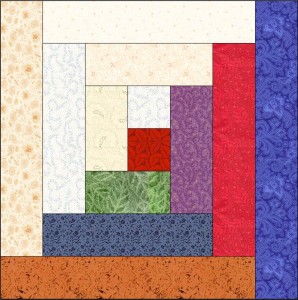 It is easy to reverse some blocks as you are sewing. If you add the logs going in different directions, the blocks won't work together. Be sure to make all your blocks the same. The samples are made by adding logs counter clockwise.
Also the traditional look has small patterns with a consistent read: All the darks very dark and all the lights very light. A contemporary look is achieved with some brights and some larger prints. Audition to get the look you want. And when you have a stack of blocks there is SO much you can do with them!

Choose your favorite set and put the block together!
As for other things going on here at LynBrown.com, if you need any of our Quilter's Alphabet patterns (This Block Of The Week will continue through the year), check the archives. And browse around the site for lots of other free patterns. And there are even more Patterns on my Etsy site.
And coming soon will be our 2012 Fall Quilts which will be the glorious and historic Burgoyne Surrounded (Supply List now available) and the beautiful Iris Quilt. The Iris block is posted now and the setting will be given in the fall so start working on those Iris blocks!
If you are just joining us for the Sunset and Vine Mystery Quilt, here is the Supply List… And The Archive of Clues. Clues are posted every Tuesday.
The Log Cabin Doll Quilt Pattern is now available on my Craftsy Site.
Thanks for stopping by!