­Look what I found in Houston.  The Festival Supply Store had a little display of books. And right in the middle was Annie's Quilts With Unique Borders!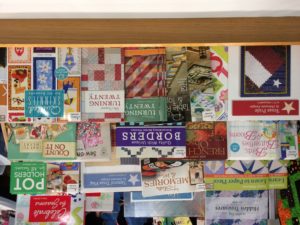 See that Borders right in the center of the display?  Honest that was where it was when I came up to the shop !  That's the border of my quilt peeking out at the top of the cover!  So cool!  But I don't think that gives me bragging rights that "I had a quilt at Houston" Oh Well!
But it was still cool to see!
Thanks to Pinwheels and Posies of Dickinson, Tx for being the Festival Store… and for displaying "my book."