We had a great time at the Victorian Lecture yesterday at the Fullerton Arboretum.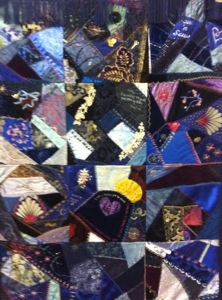 As so often happens at these kind of happenings, I didn't take enough pictures but below is a small Slideshow to give you the flavor of the day.
The Arboretum is so lovely, I hoped to hang some quilts outside among the flowers and trees. But we had to move all the festivities inside due to the high winds. In the end, it could not have been a more perfect venue for the day. My family came together and hung quilts all around for ambience. What a wonderful crew! My love and thanks go out to each of you.
I offer a special thanks to the quilt holders, Cheri and Nelson. And many thanks also to Ed, Irene, Cathy, Becky, Ray and Jean for the loaning of quilts and other materials.
And the guests were just fabulous! We had a lot of quilts brought in for "Stump The Quilter" and they were beautiful, glorious examples. I thank everyone for their attendance and their participation.
Here is the Victorian Quilt Lecture Slideshow:
http://www.qwiki.com/v/jKHq8hIJ
My thanks again to all involved in the Victorian Quilts Lecture! It was a grand day!
A note to those making the Lava Lamp quilt: I am working on the instructions for the Alternate Straight Love Bead Border. Should be posted within 24 hours. Thanks for your patience.
==========
Wondering about these free classes? Here is the list of times and locations…
Free Quilting Classes (in Orange County, CA) Times and Locations

New Student Supply List
************** SHOP **************
Please do check out my Craftsy Pattern Store where you can purchase immediate downloads of my patterns… and some new free patterns too! It was fun yesterday. I had a bunch of friends and students say "I didn't know you had this pattern for sale!" It's always worth a look to see what's going on at Craftsy...
And my Etsy store has even more patterns!
************ SUBSCRIBE ***********
You can now SUBSCRIBE to this blog and get an email each time something new (Sharing, Free Patterns or other announcements) is posted. It's so easy! Just enter your email address in to the "Subscribe to Lyn's Blog via Email" box at right and you'll start hearing from me on a regular basis.
======================
Thanks for checking in on us!