I am still going to be on Jury Duty tomorrow (No Class at the Muck or at Buena Park on Tuesday February 11, 2014)… But Valentine's Day is coming. I wanted to post this wonderfully heartfelt pattern as a Valentine/thank you to all who read all these words I write here in these posts.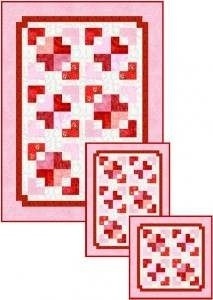 Scattered Hearts is made from a collection of 40 ea. 10″ squares in reds and pinks. So study your stash and save your scraps! Grab all those reds and pinks and get sewing! The pattern is now just 99 cents on craftsy so download it now and… Tell A Friend!
Thanks!
Here is the Scattered Hearts Quilt 99 Cents Craftsy Link.
HAPPY VALENTINE'S DAY!
************** SHOP **************
Please do check out my Craftsy Pattern Store where you can purchase immediate downloads of my patterns… and some new free patterns too!
Here is a great QUICK Fat Quarter Quilt. Instant Karma is simple and graphically appealing! Grab up some Fat Quarters (in your favorite colors or the colors of HIS favorite team!) and let's get started!  Three sizes are included in pattern so make any size you like…
Large pieces will make your Instant Karma quilt an Instant Success! Did I mention it is QUICK?
And my Etsy store has even more patterns!
************ SUBSCRIBE ***********
You can now SUBSCRIBE to this blog and get an email each time something new (Sharing, Free Patterns or other announcements) is posted. It's so easy! Just enter your email address in to the "Subscribe to Lyn's Blog via Email" box at right and you'll start hearing from me on a regular basis.
======================
Thanks for checking in on us!
Here is the Scattered Hearts Quilt FREE PDF.
And if you want a quick small  project you can easily make also download the Scattered Hearts DOLL Quilt/Table Topper Free PDF.  (You need both the quilt pattern and this addendum to make the Scattered Hearts Doll Quilt or the Table Topper.)
HAPPY VALENTINE'S DAY!