Okay …. I am on vacation! And I had this Kaffe Fassett jelly roll (from Flying Geese Quilt Shop in Tustin) calling my name. So I answered… And made  (finished!) a whole quilt top!
What fun it was to play with these beautiful fabrics. I used this cute block that has been knocking around in my head.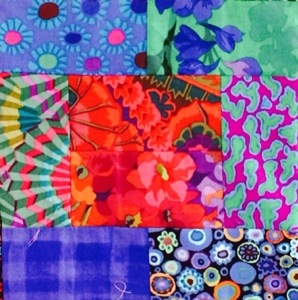 A couple of things about this block. It finishes at 8″ or is 8 1/2″ unfinished. The block contains 8 rectangles, each cut 4 1/2″ x 2 1/2″. Perfect for a Jelly Roll, Bali Pop or collection of 40 Width of Fabric 2 1/2″ strips. And you could also use a layer cake!  Cut the 10″ squares into 4 ea. 2 1/2″ strips, then cut the strips into 4 1/2″ rectangles… 8 rectangles from each square! The way the block is constructed requires no matching of seams, just a bit of contrast between the two center rectangles and the recs that surround them.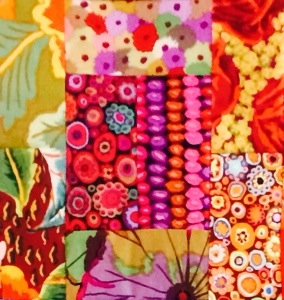 It's just a joy to put together! Like a day at the beach… Hence the name… Solana Beach!
And once you make a number of the blocks, you get to start playing with setting them together! Way FUN!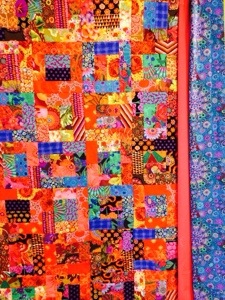 So I started thinking… Why should I have all the fun? So I patterned the quilt and I am offering the free PDF as a New Years gift for you!  Try it in two colors or in a whole rainbow!  Add sashing…skip the borders… make it fun!
Here is the Solana Beach Quilt Pattern PDF.
=========== FREE OC CLASSES =========
Wondering about these free NOCCCD-SCE-LEAP-OAP Quilting classes? Here is the list of times and locations…
Free Quilting Classes (in Orange County, CA) Times and Locations

New Student Supply List
************** SHOP **************
Please do check out my Craftsy Pattern Store where you can purchase immediate downloads of my patterns… and some new free patterns too!
My T- Shirt Quilt Pattern has lots of info on turning your old T-Shirts into a cozy quilt… A great way to keep those memories alive!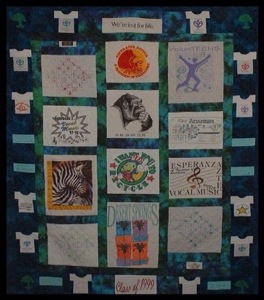 And my Etsy store has even more patterns!
************ SUBSCRIBE ***********
You can now SUBSCRIBE to this blog and get an email each time something new (Sharing, Free Patterns or other announcements) is posted. It's so easy! Just enter your email address in to the "Subscribe to Lyn's Blog via Email" box at right and you'll start hearing from me on a regular basis.
======================
Thanks for checking in on us!
Again, here is the Free Solana Beach Quilt Pattern PDF.
Happy New Year!