Eleven days til Christmas! We are getting down to the last minute. And that means last minute gifts! I have posted lots of gifts previously, but I think this year's best gift is a Scarf.
It is COLD out there (at least where I am in sunny SoCal!) and everyone appreciates a scarf to keep them warm.
The SIMPLEST Scarf is just an 8″ slice from 54″ wide fleece. Remove the selvedges, please. Make it fancy by cutting 1″ fringe on the ends. A lovely gift in about ten minutes.


Or skip the fringe and make it warmer by adding an 8″ square on both ends as a pocket (Hem one edge of square, then match three remaining raw edges to scarf ends and stitch in place.  No fringe on this one, unless it is for a child). a Pocketed Fleece Scarf is sure to keep hands toasty on long winter walks.


We have a few patterns for other lovely scarves perfect for giving…
The Ruffled Scarf  Right on trend, this slouchy, funky scarf is simple to make (I used t-shirt knit, but try a silky fabric… or minkee too!) and fun to wear!
http://www.lynbrown.com/ruffled-scarf/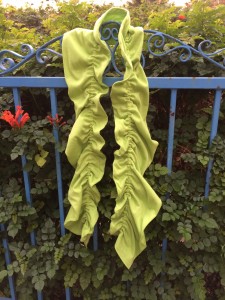 The T-Shirt Scarf  Use any motif (Diamondback given) to personalize this scarf. Fusible Applique makes it easy and tames the stretch of the T-Shirt knit!
http://www.lynbrown.com/t-shirt-scarf/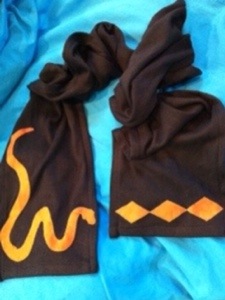 The Infinity Scarf  Fun to make, Fun to give!  Use Minkee for warmth or make it silky for style!
http://www.lynbrown.com/double-cowl-scarf/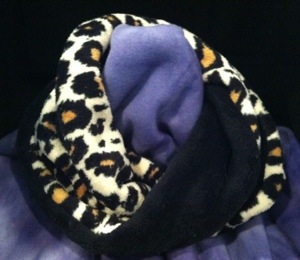 Carol's Scarf  Quick and nearly No-Sew, great under a coat or sweater!
http://www.lynbrown.com/wp-content/uploads/2012/09/Carols-Scarf.pdf
The Santa Scarf… A Jolly Reminder of the season!
http://www.lynbrown.com/wp-content/uploads/2012/12/santa-scarf1.pdf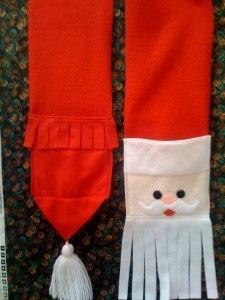 I will keep adding more gifts to stitch tween now and Christmas so keep checking back!
=========== FREE OC CLASSES =========
Wondering about these free NOCCCD-SCE-LEAP-OAP Quilting classes? Here is the list of times and locations…
Free Quilting Classes (in Orange County, CA) Times and Locations

New Student Supply List
************** SHOP **************
Please do check out my Craftsy Pattern Store where you can purchase immediate downloads of my patterns… and some new free patterns too!  There are a few patterns  you could still make up and have ready for gift giving!
And my Etsy store has even more patterns!
************ SUBSCRIBE ***********
You can now SUBSCRIBE to this blog and get an email each time something new (Sharing, Free Patterns or other announcements) is posted. It's so easy! Just enter your email address in to the "Subscribe to Lyn's Blog via Email" box at right and you'll start hearing from me on a regular basis.
======================
Thanks for checking in on us!