*** I just don't know what's wrong with me!  Errors on the last two mystery clues and now I have misplaced my QuiltDaze folder!  Must be the Summer Doldrums!  But anyone in my Friday class who signed up to display a quilt or quilt sit in our room, please let me know via email what or when.  We will be setting up Friday night  from 5 to 7 at the YL Community Center so you can drop off your quilt then.  Thanks for all your help !*** Now Back To Pretty Pinwheels….
This is a cool block!  And for hot summer days like we have been experiencing here in SoCal, a extra fan or two can't help but cool us down!  I like how this block really is two pinwheels, one atop the other.  And with the Bridges Method, that's easy to do.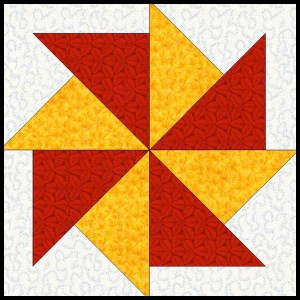 So find a cool spot, turn on a fan and start stitching your own Pretty Pinwheel block!
As for other things going on here at LynBrown.com, if you need any of our Quilter's Alphabet patterns (This Block Of The Week will continue through the year), check the archives. And browse around the site for lots of other free patterns. We are working on our 2012 series of Doll Quilts ( I'm hoping to have a new doll quilt for you in the next week or two) and lots more swap patterns. And there are even more Patterns on my Etsy site.
And coming soon will be our 2012 Fall Quilts which will be the glorious and historic Burgoyne Surrounded (Supply List now available) and the beautiful Iris Quilt.  The Iris block is posted now and the setting will be given in the fall so start working on those Iris  blocks!
If you are just joining us for the Sunset and Vine Mystery Quilt, here is the Supply List… And The Archive of Clues.  Clues are posted every Tuesday.
Quilters Alphabet Quilt Pretty Pinwheels
Thanks for stopping by!