So, continuing with theme of antique quilts and things spied this week in Cambria, CA…
First, this wool utility quilt. Just rectangles with a bit of feather stitch embroidery between. (Is that the feather stitch?)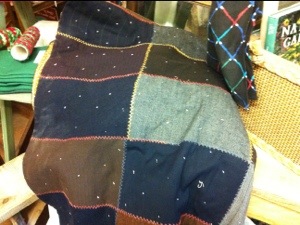 Notice the quilt is tied but the ties are all to the back making the front of the quilt cleaner and more tailored. Very nice.
And next to that was this unusual yoyo quilt. Sets of four YoYos done in the same fabrics alternate with lined squares. And the whole thing is finished with another row of YoYos!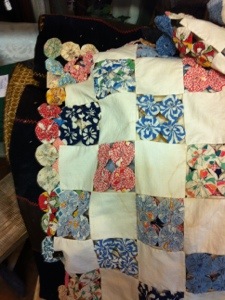 And there is just something wonderful about this pink confection! I love its pretty pattern. Part wrought iron, part fleur de lys, and all kinds of beautiful. This would be fun to do from a swap set… Hmmm… A swap set!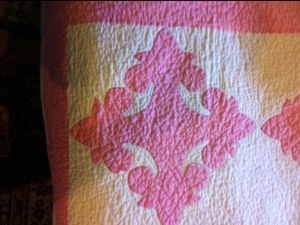 Imagine this design all in Kaffe!
Next, this spectacular appliqué kit quilt was probably done 60 to 80 years ago. Still at least as beautiful as the day it was finished. Time has given it a lovely patina.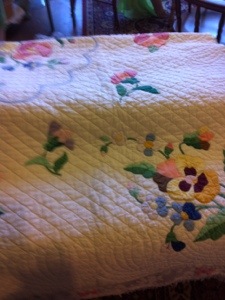 Don't know why I didn't take a better shot of this Pansy perfection. It was beautiful!
And there was this quilt at Antiques on Main in Cambria as well…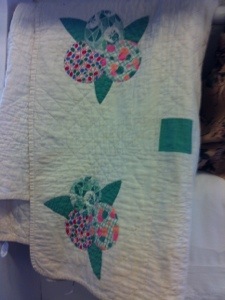 Who needs to make the vintage Oranges block out of orange fabrics? It looks wonderful made up in thirties!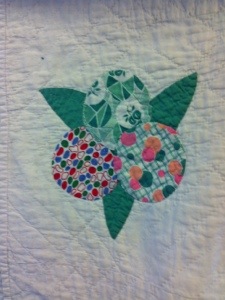 Beautiful, isn't it?
Well, I have still more to share so check back tomorrow. Loads of really wonderful quilts…
In the meantime, look around this site for LOTS of other dynamite gift ideas and other free patterns.
Including:
Our January 2013 Project Supply List – Repeat Revolution A Stack N Whack type quilt.
The Quilters Alphabet Quilt Archive
Pas
t swap/scrap-quilts
Rainbow Triangles Quilt – 8 Triangles at a Time!
2012 Rainbow Swaps
Burgoyne Surrounded Supply List
Iris 2012 Pattern
Iris 2012 Supply List
Doll Quilt Series (Did you see our latest – Modern Rails?)
Free Quilting Classes (Orange County, CA) Times and Locations (We start up again January 7)

New Student Supply List
My Etsy site
With Even More Patterns!
As always, we have a lot going on here at LynBrown.com! Thanks for looking in on us!
Make A Great Quilt!