Our Quilt Show is almost here!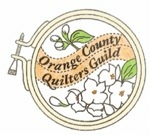 It starts Thursday night (4/24, 7 pm to 9 pm) with a Wine & Cheese Preview Night! Thank you to all who bought tickets because it is SOLD OUT! It promises to be a fun evening!
Everyone is invited to attend on Friday (4/25) and Saturday (4/26). Hours for both days are 10 am to 4 pm (unless you have already purchased a pre-sale tickets; then, you may also enter the Quilters' Garage Sale at 9 am!). Tickets will be available at the door: $8 for general admission (children 9 and under free). Special Rate for Volunteers!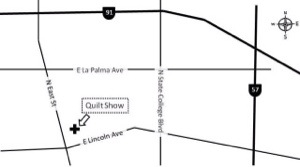 At Zion Lutheran Church – 222 N East St, Anaheim, CA.
Following are some of the activities we have scheduled:
Quilts to view, of course! Come and see what our members (and others) have been creating!
We are trying something new to us this year – Alphabet Challenge Quilts. Come see what quilters have come up with for each letter of the alphabet!
View quilts made by our featured quilter, Lyn Brown (That's ME!)! Lyn Brown has been teaching quilting in Orange County, CA for more than 16 years. In 2000, she joined the faculty of North Orange County Community College District. Lyn now teaches five quilting classes a week for the college district, reaching over 200 students. Her projects come fast and furious, including swaps, mysteries, reproduction, contemporary with a little bit of art thrown in. www.LynBrown.com
Shop at our Fabulous Vendors! Find many new treasures to bring home!
Bring the kids! We will be having a Quilters' Seek & Find activity for kids and there will be a lovely prize for participating.
Have a yummy lunch without leaving the show! Students from Zion Lutheran Church School will be serving lunch as a fund-raiser for their trip to Washington, D.C. next year.
Shop at our Quilters' Garage Sale where bargains are to be found.
Purchase tickets for a chance to win one of the many, bountiful Opportunity Baskets (or one of the non-basket items)!
Purchase tickets for a chance to win our Opportunity Quilt! In case you still have tickets that you have pre-sold, this will be the last chance to turn them in (Saturday before 2 pm). Additional tickets may also be purchased!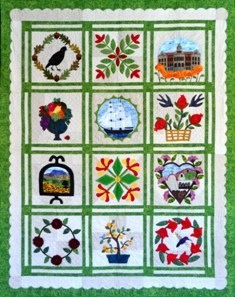 They are 1 for $1 or 6 for $5. Winner will be selected on the final day of our Quilt Show (4/26/2014). Here is a picture ("Baltimore Comes to California" designed by Lyn Brown):
Free, up-close Parking!
Enjoy the day with friends!
Check out our Website for all of the details. Hope to see you at the Show!