Even though I am not going to teach this fall (Gonna spend some time with my new Grandson!) the quilt projects will continue to be posted here at LynBrown.com.  This Fall's "Big" Quilt will be the Nostalgic 9 In 9. This is such a sweet quilt.  My sample is done in a rainbow of colors but you could make it in reproduction fabrics or autumn or (Pick your favorite) Holiday!  The stitching is easy… but there is a lot of it.  I will be presenting it in little bits each week…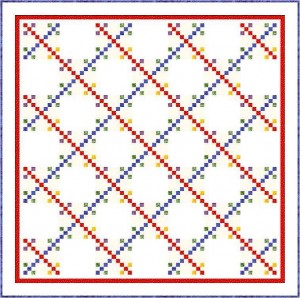 Also known as the Double 9-Patch, you can see that this very traditional quilt has a bit of a modern vibe!  I love that about quiltmaking!
Here is the supply list for this Fall Project…
Nostalgic 9 In 9 Quilt Supply List
Gather what you need… Instructions start next Saturday, September 6, 2014.
*** Our Craftsy sale is ending soon! ***
I am having a Christmas Sale in our Craftsy Shop, Christmas in August!   You still have time to make these wonderful holiday patterns and they are all half price at $2.99!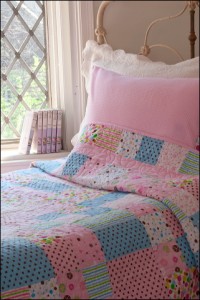 When you are thinking about Christmas Quilting, picture this sweet flannel quilt done up in your favorite Christmas fabrics!  Every Which Way is a simple quilt to stitch up and will look GREAT in your favorite selection of fabrics!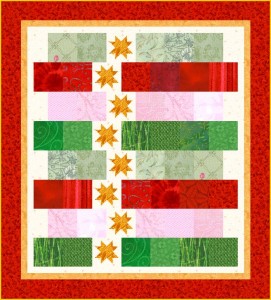 Strippy Stars is a simple to make quilt pattern you'll use over and over again… Christmas or Patriotic or BABY! Or… Anything!  This quick pattern has NO MATCHING SEAMS and Fusible Appliqued Stars!  Quick, Quick, QUICK!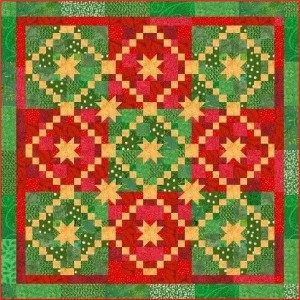 Chains Of  Friendship is a great scrappy pattern!  Make it Christmas!  Make it 1800s!  Make it 30s!  Make it Patriotic! Make it TODAY!!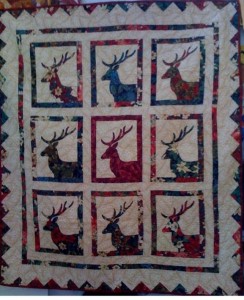 The Herd   features Rudolph and all his friends!  Made from yummy Christmas Fat Quarters, It goes together easily and makes a wonderful Christmas Quilt… It's also great for any hunters on your gift list…

Practically Life-Sized Santa!  He is SEW FUN to stitch up!  This picture is an unfinished rendition, the pattern adds appliqued mittens, his sack (3-D  to add your own toys!) and his fuzzy beard too!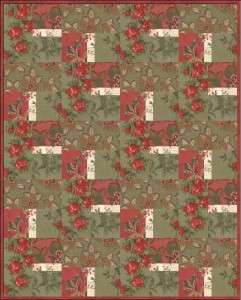 Instant Karma  Large pieces and small squares add up to Big Impact with this Instant Karma Quilt!  Christmas fabrics make it festive, School Colors make it ready to take to the dorm and/or the Big Game!
Please do check out my Craftsy Pattern Store where you can purchase immediate downloads of my patterns… and some free patterns too!
Here is the supply list for this Fall Project…
Nostalgic 9 In 9 Quilt Supply List