I Got It!
Annie's Publishing NEW BOOK "Blocks With Options" which has my Blue Gardenia Quilt Pattern.  And I have received my copy!  So fun to see it in print!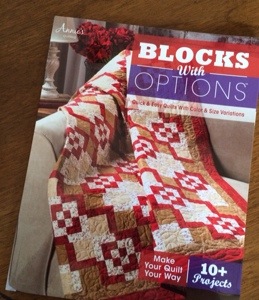 You can order the book straight from Annie's.  Amazon, for some reason, has a release date of late February. But you can get it from Annie's NOW! Blue Gardenia is just one of 10 great projects in this book.  There are lots of other great quilts by some talented designers in Blocks With Options. Check it out!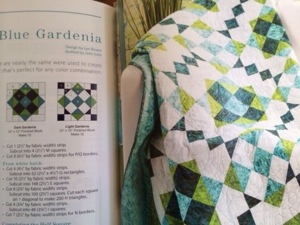 If you look very close and squint your eyes at this pic, you may be able to read my name as the designer and Jami Goto at Calico House as the quilter.  Jami really did a superb job with the quilting.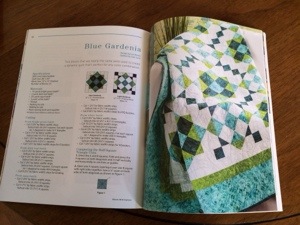 The Hoffman Batiks certainly make the quilt sing.  And it is pretty easy to make!  Just two different blocks (which are really very much the same) come together to make a wonderful design.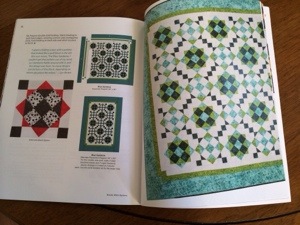 Get your copy straight from Annie's or your local JoAnne's store may have a very few copies.
************** SHOP **************
Please do check out my Craftsy Pattern Store where you can purchase immediate downloads of my patterns… and some new free patterns too!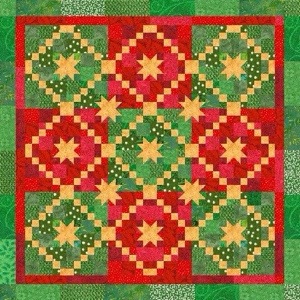 And now is the time to start thinking about Christmas 2014! Groan! But it's true! Get my Chains of Friendship pattern now on Craftsy and you'll have a year to finish a beautiful Christmas version of this gorgeous but simple to sew quilt!
Chains of Friendship on Craftsy
And my Etsy store has even more patterns!
=========== FREE OC CLASSES =========
Wondering about these free NOCCCD-SCE-LEAP-OAP Quilting classes? Here is the list of times and locations…
Free Quilting Classes (in Orange County, CA) Times and Locations

New Student Supply List
************ SUBSCRIBE ***********
You can now SUBSCRIBE to this blog and get an email each time something new (Sharing, Free Patterns or other announcements) is posted. It's so easy! Just enter your email address in to the "Subscribe to Lyn's Blog via Email" box at right and you'll start hearing from me on a regular basis.
======================
Thanks for checking in on us!