Isn't it amazing that the Russian Olympics are utilizing Patchwork so heavily in their banners and uniforms? I just love seeing our craft get this worldwide publicity!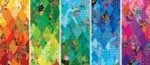 Maybe it's the jury duty with lots of downtime… (Class note:  Class will be meeting this Tuesday the 18th and Wednesday the 19th during a break in my Jury Duty Service…. ) but I have been sketching this motif in my jury notebook and trying to come up with a design that will honor and keep alive our memories of Sochi. Then I started to wonder about what the motifs represent. Then I found this link:
http://www.graphicart-news.com/the-olympic-patchwork-quilt-sochi-2014/#.UwBgMZm9LCR
It explains that the patchwork represent the many regions of Russia. Very interesting!
So at last I came up with a design I like… It's simple once you know the trick!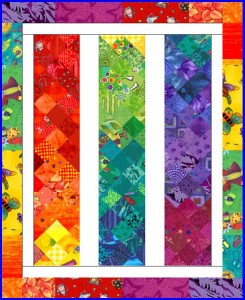 Classmembers could pull out some of our old swaps and others should scour your stash and grab up some Fat Quarters. This design is about 64″ X 78″.  If you wish to make a larger quilt, it would be simple to add more panels or make the panels longer.  I'll be posting a pattern soon. (I'm working on it!). Check back in the next few days!
========= FREE OC CLASSES =========
Wondering about these free NOCCCD-SCE-LEAP-OAP Quilting classes? Here is the list of times and locations…
Free Quilting Classes (in Orange County, CA) Times and Locations

New Student Supply List
************** SHOP **************
Please do check out my Craftsy Pattern Store where you can purchase immediate downloads of my patterns… and some new free patterns too!
The Happy Hex Purse or Tote – These cute little hexagons are fun to make by hand or by machine (for quicker gift giving!)  After all the giving you have donefor all those in your life, make this cute tote just for yourself!  Use batiks OR fussy cut a meaningful print (like this adorable Pug fabric!) OR show off your latest machine embroidery to make this bag all about you!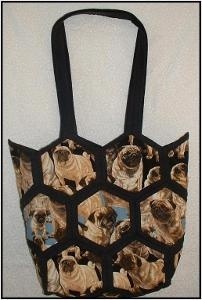 The Happy Hex Purse or Tote on Craftsy
There are lots more of my patterns (along with lots of your other favorite designers) available on Craftsy.  Check it out!
And my Etsy store has even more patterns!
************ SUBSCRIBE ***********
You can now SUBSCRIBE to this blog and get an email each time something new (Sharing, Free Patterns or other announcements) is posted. It's so easy! Just enter your email address in to the "Subscribe to Lyn's Blog via Email" box at right and you'll start hearing from me on a regular basis.
======================
Thanks for checking in on us!