Imagine a time 100 years from now. Your great great grandchild opens a cabinet to pull out an old worn quilt to show his/her grandchild.
"This was made by my great great grandma."
"Oh, it's beautiful! What was her name? Where did she live?"

Will they know the answers to these questions? If you label all your quilts, they certainly will.
Sometimes we think we only need to label our special quilts but there is no telling which of our quilts will survive so label everything you make! It's all a little bit of history!
You never know… That cabinet they open may be on the moon or in the White House!
As you can see from these pictures, I favor Labels by the Yard… Those printed blank labels that some fabric manufacturers put out. They are pretty, fast and I can add whatever info I want to them. Buy a panel of them whenever you see them… but leave some for me!   (By request, here are some source links for pre-printed panels of quilt labels…  Nancy's Notions always does quality stuff.   E-Quilter has gobs of everything.  And of course, Block Party Studios does all those wonderful sayings on fabric.  Hope these help you find something to get that label on that quilt!)

We've made a lot of fabulous quilts in our classes. The creativity of class members always leaves me awed! Your quilts are your legacy. It is so important to label your work for future generations, for identification as well as financial reasons. Did you know antique quilts with attribution are worth at least twice as much as their similar counterparts without attribution? Wow!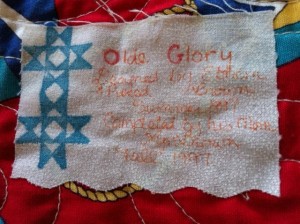 This one I used a little rubber stamp and some fabric ink… Check at your local craft store.  If you would like to include a great quotation, check out this site with lots of great "quilterly" quotes for your label…
Here are my suggestions for Quilt Labeling all in PDF form:
Thanks for checking in…