I have been sworn in on a jury. The case is scheduled to last for ten court days, so for the next couple of weeks, my NOCCCD CLASSES are gonna be a day to day thing.
The Judge has a few days TBD when he has other commitments so I will hold class on those days. And hope springs eternal that the case could be settled at any point through the duration. So,at the end of each court day, I will post an update… And a Free Pattern for your trouble. So keep checking back!
To be sure, I will also be continuing our Do You See…? Block of the Week, our Monthly Ornament Club and will indeed post our first Mid Century Modern Sampler Block. (Did you see the MCM Sampler Supply List?)
I am digging through the archives for classic Lyn Brown patterns that you haven't seen for a while and have an exclusive new "Jury Duty" design in mind so be sure to watch this website!
Monday's class, 2.10.14, is, of course, cancelled.
Our first FREE Quilt pattern is…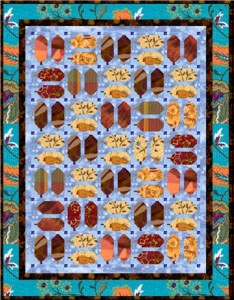 Autumn Leaves FUN Quilt PDF Pattern
Give the Autumn Leaves FUN Quilt a try!
************** SHOP **************
Please do shop my Craftsy Pattern Store where you can purchase immediate downloads of my patterns… and some new free patterns too!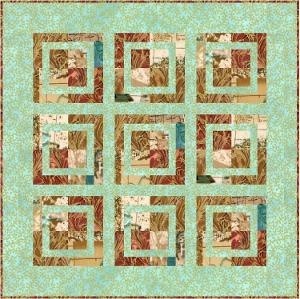 My Early Spring Pattern, above, is now available at my Craftsy Store.  Made with just FIVE great fabrics (These are all from Hoffman California Fabrics) to set up a great dynamic.  But I must confess, the quilt started out as a swap of ten inch squares, so a layer cake or Cracker (also from Hoffman) would work great and offer more variety too!  Make your own version of Early Spring and send me a pic!  Thanks!
************ SUBSCRIBE ***********
You can now SUBSCRIBE to this blog and get an email each time something new (Sharing, Free Patterns or other announcements) is posted. It's so easy! Just enter your email address in to the "Subscribe to Lyn's Blog via Email" box at right and you'll start hearing from me on a regular basis.
=========== FREE OC CLASSES =========
Wondering about these free NOCCCD-SCE-LEAP-OAP Quilting classes? Here is the list of times and locations…
Free Quilting Classes (in Orange County, CA) Times and Locations

New Student Supply List
======================
Thanks for checking in on us!
Autumn Leaves FUN Quilt PDF Pattern