When we had to start the new site a few months back we lost a lot of the links from other websites to our site.  Slowly, we are trying to rebuild those links.  In the meantime, we have noticed a few new international links to the site and that is very exciting.  Quilters are checking in from all over…
Here is a website from New Zealand… She is working on some beautiful Lasagne Quilts…  Check out RazzleDazzle Quilts.  Thanks  for the link!  Don't forget these Lasagne Quilts are great to make from Jelly Rolls!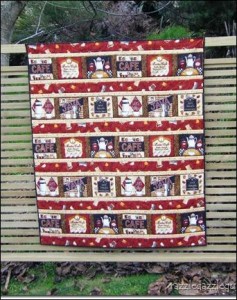 And from another corner of the globe… Our backing discussion was referenced by the Oranje Quilters' Guild site in South Africa!  Wow!  How fun is that!  Thanks for the link!
And as I was browsing around I found that the group from
McCall's Quilting
is sending posts from their trip to Ireland for the
International Quilt Festival
there.  Look to the right on the McCall's blog to see more posts from Ireland.
Thanks for checking in with us… Browse the above sites, and ours, for lots of great inspiration!