Wow! The athletes are awesome! And those Patchwork Banners are beautiful. That patchwork inspired this pattern now available on Craftsy.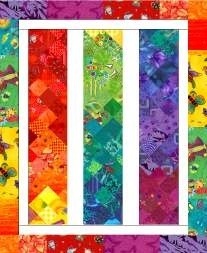 This design is simplified. There are only three panels. Each panel is made of just squares and quarter square triangles.  It is the color and variety of the fabrics you use that will make this quilt fabulous!
If you want to make a bigger quilt, make the panels longer and/or make more panels.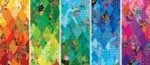 So start gathering fabrics of all colors of the rainbow to make your memories of Sochi quilt… And don't forget to download the FREE pattern  from Craftsy!
========== FREE OC CLASSES =========
Wondering about these free NOCCCD-SCE-LEAP-OAP Quilting classes? Here is the list of times and locations… but remeber, I am on Jury Duty with a few breaks… so check here before going to class.

Free Quilting Classes (in Orange County, CA) Times and Locations

New Student Supply List
************** SHOP **************
Please do check out my Craftsy Pattern Store where you can purchase immediate downloads of my patterns… and some new free patterns too!
Here is a great QUICK Fat Quarter Quilt. Instant Karma is simple and graphically appealing! Grab up some Fat Quarters (in your favorite colors or the colors of HIS favorite team!) and let's get started!  Three sizes are included in pattern so make any size you like…
Large pieces will make your Instant Karma quilt an Instant Success! Did I mention it is QUICK?
And my Etsy store has even more patterns!
************ SUBSCRIBE ***********
You can now SUBSCRIBE to this blog and get an email each time something new (Sharing, Free Patterns or other announcements) is posted. It's so easy! Just enter your email address in to the "Subscribe to Lyn's Blog via Email" box at right and you'll start hearing from me on a regular basis.
======================
Thanks for checking in on us!