So many folks today are reliant on their electronic tablets… iPads, Kindles, Nooks or Androids.  Whether for business or entertainment, we like to take those tablets along with us to any manner of places!  Here is a wonderful tote to tote around your favorite tablet.  And no one will know you have a tablet in the tote!
It is all hidden and secure!  This is easy to make and would be a great gift for the tech lover on your  list!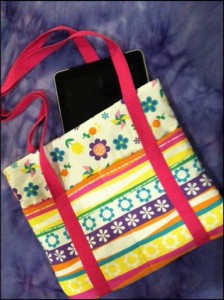 And if you don't need to carry a tablet, the tote makes up super quick when you leave off the iPocket and you can even forget the Batt.    The tote is constructed flat of lined rectangles of fabric.  Cinchy!  The iTote pattern PDF is available for immediate download at my Craftsy Pattern Store.
And with the time you save with this method, try another free project from our site…
The Quilters Alphabet Quilt Archive
Pas
t swap/scrap-quilts
Rainbow Triangles Quilt – 8 Triangles at a Time!
2012 Rainbow Swaps
Burgoyne Surrounded Supply List
Iris 2012 Pattern
Iris 2012 Supply List
Doll Quilt Series (Did you see our latest – Modern Rails?)
Free Quilting Classes (Orange County, CA) Times and Locations
New Student Supply List
Do check out my Craftsy Pattern Store where you can purchase immediate downloads of my patterns… and some free patterns too!
My Etsy site
With Even More Patterns!
As always, we have a lot going on here at LynBrown.com! Thanks for looking in on us!
Thanks for stopping by!
And here is the link to My Craftsy Pattern  for the iTote…
Make A Great Quilt! Uh… iTote!