What a treat to see so many Dear Jane Quilts all in one place! This exhibit at Houston IQF celebrates 20 years since the publication of Brenda Ps book that started a revolution.

At first glance, these quilts seem so much the same but look closer. Each work is unique and reflects its maker. Of course, making a Jane quilt is quite a commitment. Mine took 7 years (with a few other quilts thrown in!)
But the effort is certainly worth it… Take a look…
(The last one is mine… displayed at home in Yorba Linda!)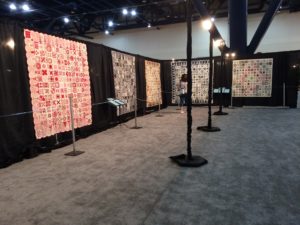 I didn't photograph the whole exhibit on our whirlwind run through the show, but aren't they all fabulously unique?  Have you made a DJ Quilt?  Have you started one?  We wanna see pictures!  Send them to my email (LynBrownDotCom@gmail.com) or post them on my Facebook feed!  Thanks!
And here is mine on its favorite wall in our home…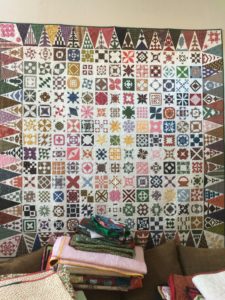 That stack of quilts is the beginnings of my prep for my visit to Beach Cities Guild in Mission Viejo on Thursday night.  I'm doing a Holiday Trunk Show.  I'd love it if you could join us!
 See you there!