12 Months! We've been working toward this moment for 12 Months!  And now it is at last here!  Time to add the borders to your Fanciful Floral FourSquare quilt then get it Quilted, Bound and Labeled AND call it DONE!
I originally showed this quilt with Whole Cloth Borders and they make a lovely finish to this quilt.  But I've also given instructions for a Scalloped Border if you would like to give that a try.  It isn't much more difficult, or even much more work, for how wonderful it looks!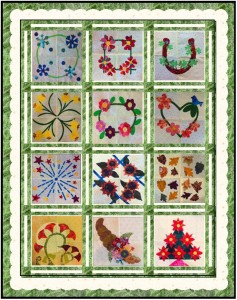 This is really a beauty, whichever border you choose…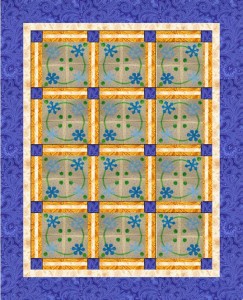 *** Special note to all who swapped tree blocks in my NOCCCD-SCE-LEAP-OAP classes.  You can use these borders on your tree quilt!  Same number of blocks, same sized blocks!
All the instructions you need are on this PDF below.
FFF Borders Whole Cloth or Scallop
Our 2014 Block of the Week Starts in January!
Merry Christmas!

=========== FREE OC CLASSES =========
Wondering about these free NOCCCD-SCE-LEAP-OAP Quilting classes? Here is the list of times and locations…
Free Quilting Classes (in Orange County, CA) Times and Locations

New Student Supply List
************** SHOP **************
Please do check out my Craftsy Pattern Store where you can purchase immediate downloads of my patterns… and some new free patterns too!
And my Etsy store has even more patterns!
************ SUBSCRIBE ***********
You can now SUBSCRIBE to this blog and get an email each time something new (Sharing, Free Patterns or other announcements) is posted. It's so easy! Just enter your email address in to the "Subscribe to Lyn's Blog via Email" box at right and you'll start hearing from me on a regular basis.
======================
Thanks for checking in on us!
Here again is the FFF Border PDF…
FFF Borders Whole Cloth or Scallop
Check back here at LynBrown.com for our 2014 Block of the Week.