As the Spring Semester draws to a close next week (with, hopefully, a huge Show and Tell in each class!) my thoughts have turned to the fall.  After discussing possible projects with my students, we settled on the Nostalgic 9 In 9 as our fall project.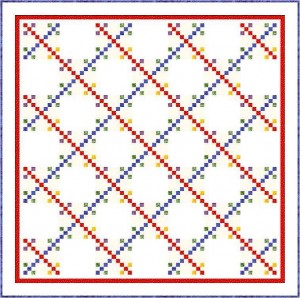 This is a deceptively simple pattern that utilizes one of the most basic quilt blocks ever… the 9-Patch.  But this is a project to truly improve your skills.  The little 9-Patches finish at just 3″ so accuracy is vital!
My sample above presents a rainbow of color on white.   But you can do your own thing… Examine the supply list and decide what you want to do.  Could be batiks. 1800s or 30 reproductions or some other theme.
The instructions for this quilt will start on September 6, 2014 before the NOCCCD classes start again on September 8.  For now, here is the supply list…
Nostalgic 9 In 9 Quilt Supply List
Stay tuned…
Please do check out my Craftsy Pattern Store where you can purchase immediate downloads of my patterns… and some new free patterns too!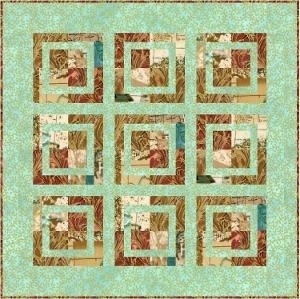 My Early Spring Pattern, above, is now available at my Craftsy Store. Made with just FIVE great fabrics (These are all gorgeous gold infused fabrics from Hoffman California Fabrics) to set up a great dynamic. But I must confess, this quilt pattern started out as a swap of ten inch squares, so a layer cake or Cracker (also from Hoffman) would work great too! Make your own version of Early Spring and send me a pic! Thanks!
************ SUBSCRIBE ***********
You can now SUBSCRIBE to this blog and get an email each time something new (Sharing, Free Patterns or other announcements) is posted. It's so easy! Just enter your email address in to the "Subscribe to Lyn's Blog via Email" box at right and you'll start hearing from me on a regular basis.
======================
Thanks for checking in on us!
And again, here is the Supply List  PDF…
Nostalgic 9 In 9 Quilt Supply List