Oh Boy! Oh Boy! It's time for another Do You See…? block! The Holly Wreath, evergreen and hardy, represents long life and strength in the harshest of conditions.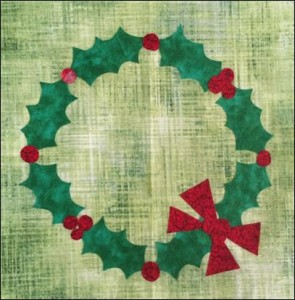 Our Holly Wreath is represented with just eight leaves along with a number of berries and a Bow. These shapes each present challenges for appliqué (whether pointy or circular!) Just go slow and you'll do fine.
For a refresher on machine appliqué, check out my pictorial tutorial…
And here is the Holly Wreath Pattern PDF link:
Do You See 21 Holly Wreath
21 blocks done! Unbelievable! Just 27 to go!
Please do check out my Craftsy Pattern Store where you can purchase immediate downloads of my patterns… and some new free patterns too!
My Staycation Jelly Roll Quilt  is Available on Craftsy.
A Staycation is when you vacation at home.  Any time in my sewing room is a Staycation for me!  So make this lovely quilt on your next Staycation!  Using 2 1/2″ strips from a Bali Pop or a Jelly Roll or a swap or your own stash, this quilt goes together pretty easy with just a few tricks.
Do you see the circles or wreaths?  Wouldn't this be grand in Christmas prints?  Or Autumn?  Wow!  I think I need to make another Staycation quilt!
And my Etsy store has even more patterns!
************ SUBSCRIBE ***********
You can now SUBSCRIBE to this blog and get an email each time something new (Sharing, Free Patterns or other announcements) is posted. It's so easy! Just enter your email address in to the "Subscribe to Lyn's Blog via Email" box at right and you'll start hearing from me on a regular basis.
======================
Thanks for checking in on us!
Again, here is the Holly Wreath PDF link:
Do You See 21 Holly Wreath