Is this an unusual block? It is a bit different. But I like hearts at Christmas. They are the embodiment of Peace On Earth, Good Will Toward Men.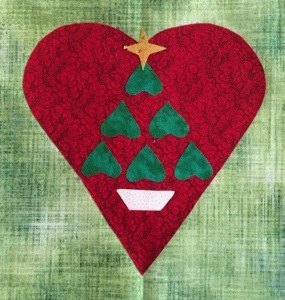 So this is the Tree Of Hearts. Lots of Peace and Good Will! And pretty too!
Here is the Tree of Hearts PDF:
Please do check out my Craftsy Pattern Store where you can purchase immediate downloads of my patterns… and some new free patterns too!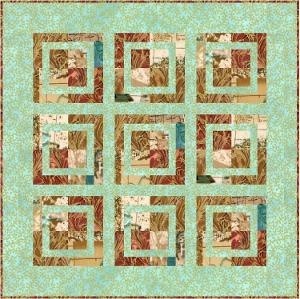 My Early Spring Pattern, above, is now available at my Craftsy Store.  Made with just FIVE great fabrics (These are all from Hoffman California Fabrics) to set up a great dynamic.  But I must confess, the quilt started out as a swap of ten inch squares, so a layer cake or Cracker (also from Hoffman) would work great too!  Make your own version of Early Spring and send me a pic!  Thanks!
************ SUBSCRIBE ***********
You can now SUBSCRIBE to this blog and get an email each time something new (Sharing, Free Patterns or other announcements) is posted. It's so easy! Just enter your email address in to the "Subscribe to Lyn's Blog via Email" box at right and you'll start hearing from me on a regular basis.
*********************************
Thanks for checking in on us!