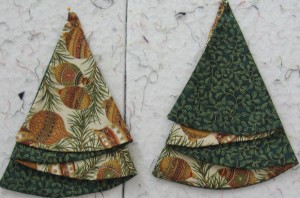 These Christmas Tree napkins are great fun.  Easy to make and great all through the holidays.  Make a set for a special friend.  They are sure to please!
The napkins are really just semi circles of fabric, lined.  It's the folding that makes them look like trees!  Think outside the box and make these for other times of the year… Then call them Cascading Napkins.  I'm thinking of some of those great autumn prints that are available.  Or Sunflowers.  Or even, dare I say it… Fish!  How Fun!
And try them in different sizes.  One crafter made them very small (3″ radius) for lapel pins! Just add a pin back and tack to hold the folds in place. Cute!
And a 5″ radius (10″ diameter) size makes a nice tree ornament… Just add a ribbon loop at the point of the fold.
Click the PDF Link below to download the pattern…
AND, New in November 2013, here is a Step By Step Pictorial Tutorial on how to make and fold these napkins…
http://snapguide.com/guides/make-fold-decorative-christmas-tree-napkins
Browse this site (www.LynBrown.com) for lots of other great quilt patterns.
Check out my CRAFTSY Store!
Thanks for checking in on us!