Can you believe it? You can make a quick reversible hat out of tea towels! It's pretty easy and, well, Pretty!  So scrounge around your local shops (Target, Ikea, Home Goods, etc.) and get a couple of coordinating (maybe) tea towels and let's get started!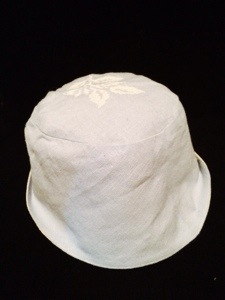 Note that there are just TWO pieces to the Pattern on this PDF. The Brim pattern had to be split to fit the page. So the Brim A and B pieces join at the dashed lines before cutting from fabric. Suggestion: Trace the pieces to Freezer Paper and use as your cutting pattern.  Also note that the Brim is cut on a Sort of bias fold.  That means fold the towel to get the Brim to fit on the folded towel.  There is an illustration on the Pattern.  This is a medium size and the bias helps the fit.  Trim or add to the pieces to change the hat size.
Make a great Hat! And send me a pic!
Here is the Tea Towel Hat PDF.
Looking for more to do with these Tea Towel Gems?  Check out More Terrific Tea Towel Ideas.
=========== FREE OC CLASSES =========
Wondering about these free NOCCCD-SCE-LEAP-OAP Quilting classes? Here is the list of times and locations…
Free Quilting Classes (in Orange County, CA) Times and Locations

New Student Supply List
************** SHOP **************
Please do check out my Craftsy Pattern Store where you can purchase immediate downloads of my patterns… and some new free patterns too!
And my Etsy store has even more patterns!
************ SUBSCRIBE ***********
You can now SUBSCRIBE to this blog and get an email each time something new (Sharing, Free Patterns or other announcements) is posted. It's so easy! Just enter your email address in to the "Subscribe to Lyn's Blog via Email" box at right and you'll start hearing from me on a regular basis.
======================
Thanks for checking in on us!
Again, here is the Tea Towel Hat PDF.
Check out More Terrific Tea Towel Ideas.