For some quilters, binding is the most enjoyable part of the process. To be sure, we love each part of making a quilt but binding offers a time to slow down and look at our handiwork… To admire the fabrics, the design AND, face it, be proud we are at last finishing something!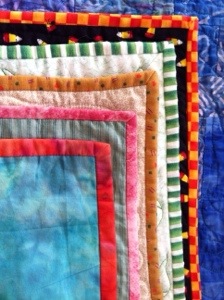 But for others, binding is a difficult, unknown course traveled so seldom they are sure they will get lost. So in the PDF below is charted out a sure and easy way to bind your quilt.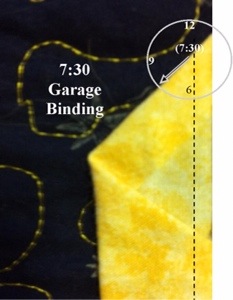 Don't let the name put you off, 7:30 Garage Binding works every time with no complicated measuring or odd cutting.
The 7:30 Garage Binding Instructional PDF is available for free download here:
==========
Wondering about these free classes?  Here is the list of times and locations…
Free Quilting Classes (in Orange County, CA) Times and Locations

New Student Supply List
************** SHOP **************
Please do check out my Craftsy Pattern Store where you can purchase immediate downloads of my patterns… and some new free patterns too!
And my Etsy store has even more patterns!
************ SUBSCRIBE ***********
You can now SUBSCRIBE to this blog and get an email each time something new (Sharing, Free Patterns or other announcements) is posted. It's so easy! Just enter your email address in to the "Subscribe to Lyn's Blog via Email" box at right and you'll start hearing from me on a regular basis.
======================
Thanks for checking in on us!
******************
Here is the Binding PDF: